[ad_1]

By the year's end, global airline capacity is expected to have returned to levels last seen in 2006, with flights down 38 per cent on 2019 volumes, according to Cirium's Airline Insights Review 2021.
There's been a stark contrast in the recovery of domestic and international capacity, with the latter increasingly only six per cent from (January to October 2021) compared to the same nine-month period in 2020.
Top 10 busiest routes 2021
1. Jeju-Seoul Gimpo
2. Seoul Gimpo-Busan Gimhae
3. Jeddah-Riyadh
4. Fukuoka-Tokyo Haneda
5. Tokyo Haneda-Sapporo
6. Mexico City-Cancun
7. Shanghai-Shenzhen
8. Beijing-Shanghai
9. Hanoi-Ho Chi Minh
10. Bogota-Medellin
(Source: Cirium. Ranking based on arriving flight volumes)
More than three-quarters (78 per cent) of flights tracked by Cirium in 2021 were domestic operations with such flights accounting for all 20 of the world's top routes this year – 12 of which were in the US and seven in China.
In comparison, domestic traffic accounted for 58 per cent of all capacity in 2019 with international traffic at 42 per cent (down to 22 per cent in 2021).
Chinese and US cities comprised a similar proportion of the world's busiest airports this year, with the two countries enjoying 'accelerated' domestic recovery, with capacity in China surpassing 2019 levels by 6 per cent.
Regionally, European traffic was down the most in 2021 with a 66 per cent slump compared to 2019. Asia-Pacific traffic was down 61 per cent, the Middle East dropped by 60 per cent, Latin America by 55 per cent, and North America by 40 per cent.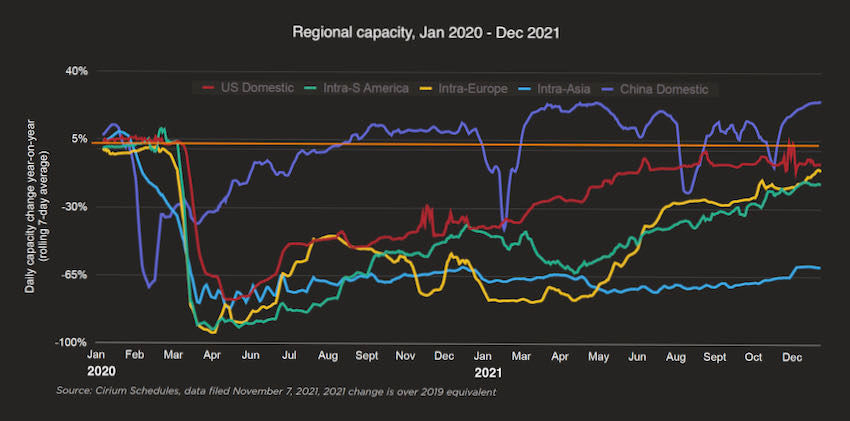 "The past year has had its challenges as we continued to face fluctuating cases of COVID-19, new variants – most recently Omicron – and varied vaccination programmes per country," said Jeremy Bowen, Cirium CEO. "There is light at the end of the tunnel as we see international travel corridors reopening. However, we will continue to track this momentum as new variants arise."
 
Fares movement
Slower European recovery has meant fares have remained flatter than in some other regions. While average fares bottomed out in March 2020 at €56.70 and remained generally flat until summer 2021, they climbed to €82.37 in shortly afterwards as travel restrictions across the continent began to lift.
Top 20 busiest airports 2021
1. Atlanta
2. Chicago
3. Dallas
4. Denver
5. Charlotte
6. Los Angeles
7. Houston
8. Seattle
9. Guangzhou
10. Phoenix
11. Chengdu
12. Las Vegas
13. Shanghai
14. Kunming
15. Beijing
16. Chongqing
17. Shenzhen
18. Orlando
19. Mexico City
20. Delhi
(Source: Cirium. Ranking based on arriving flight volumes)
Seats in 2021 Q4 are expected to be down 25 per cent compared to the same quarter in 2019.
One-way economy fares between Europe and North America were up 11 per cent in August 2021 ($424) compared to 2019 ($384), while economy fares between London and New York also increased (from $300 in August 2019 to $396 in August 2021).
However, one-way business class fares between the two cities dropped ten per cent to $1,441 in August this year (from $1,598 in August 2019) but had held firm in July when there was a mere two per cent difference – a change Cirium suggests could be due to the launch of JetBlue services between the cities on 11 August that drove fares down.
At least 68 airlines have sought bankruptcy protection or have gone out of business due to the Covid-19 pandemic, according to Cirium.
Looking ahead, Cirium expects global passenger numbers to grow by 47 per cent in 2022, matching volumes last seen in 2015. Recovery will be driven by domestic volumes, which it expects to return to pre-Covid levels, while international traffic is predicted to return to two-thirds of 2019 volumes.
It believes transatlantic travel "probably won't return to 2019 levels until some time in 2023".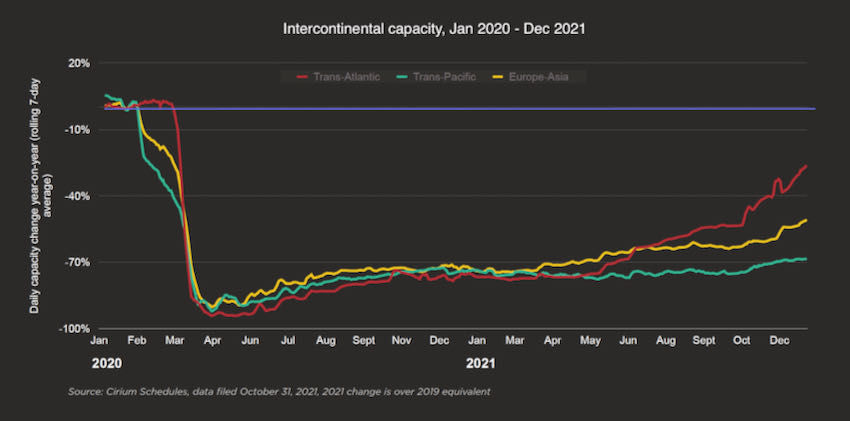 [ad_2]

Source link